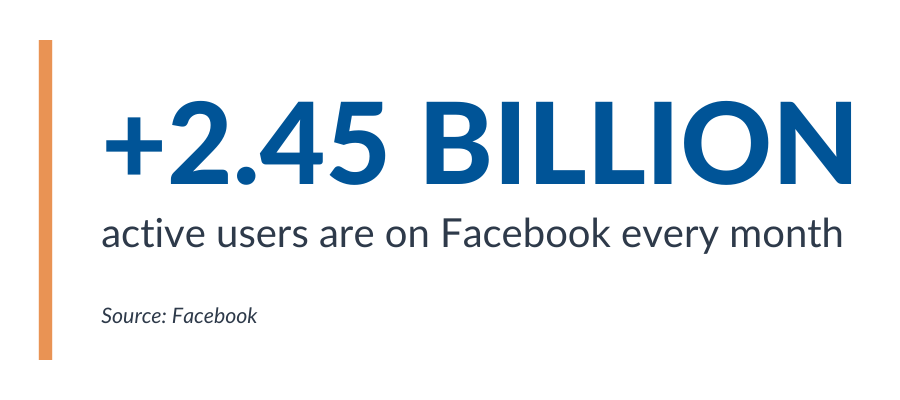 Some marketers question the sustaining relevance of Facebook as fewer Gen Z'ers are using the platform than previous generations. However, with over 2.45 billion monthly active users, Facebook remains a critical asset to any digital ad strategy. As one of the "original" and most popular social media platforms, Facebook is part of the internet advertising triopoly (alongside Google and Amazon), which are expected to control nearly 70% of digital ad spending in 2020. This may not leave you with many options in terms of where to run your ads, but the good news is that it's a great time to market your business on Facebook.
Facebook ad impressions were up 37% in 2019 thanks to additions like Facebook Stories, Instagram Stories and Facebook News — meanwhile, the average cost per click (CPC) across all industries is down to $1.72.
Facebook has made it easier than ever to set up and launch campaigns, but there are many nuances that can make a significant difference in the outcome. MBI is here to help your brand navigate the technical changes, cost efficiencies and best practices needed to make every campaign we touch a winner.
Here are the top 5 tips for optimizing your ads for success on the platform:
1. Place Facebook Tracking Pixels on Your Website
Have you ever viewed a product online, decide not to purchase, and then see that item advertised to you on Facebook days later? If you have, it was probably thanks to Facebook tracking pixels and a smart retargeting campaign.
A tracking pixel is a small section of code placed on a website that is triggered when visitors take an action on the site such as viewing a product page or initiating a checkout. The pixel trigger informs Facebook of your web visitors's activity and can be used to target them with ads based on their activity. For example, if they previously purchased shoes from your site, you could serve them an ad featuring your handbags or the latest product launch. Or if they viewed multiple items but did not purchase, you could retarget the user with a special offer code to entice them to convert.
The use of tracking pixels and retargeting campaigns are invaluable for converting cart abandoners and staying in front of your site visitors with relevant content. They can also be used to create look-a-like models of your best customers for prospecting campaigns (more on that later).
If you have 20 or more products/services on your website, consider dynamic retargeting.
Unlike other Facebook ads, dynamic ads don't require you to individually create an ad for each of your products. Instead, it automatically uses Pixel data to advertise the correct product from your catalog to the audience members most likely to be interested based on their history, interests and other data.
2. Set the Appropriate Campaign Objective
Some of the most common errors marketers make while managing Facebook ad campaigns are not setting the appropriate campaign objective for desired outcome, using ad formats that aren't ideal for the objectives and focusing on the wrong reporting metrics.
Facebook has many helpful tools to select the right campaign objective, but experience and expectation setting is critical.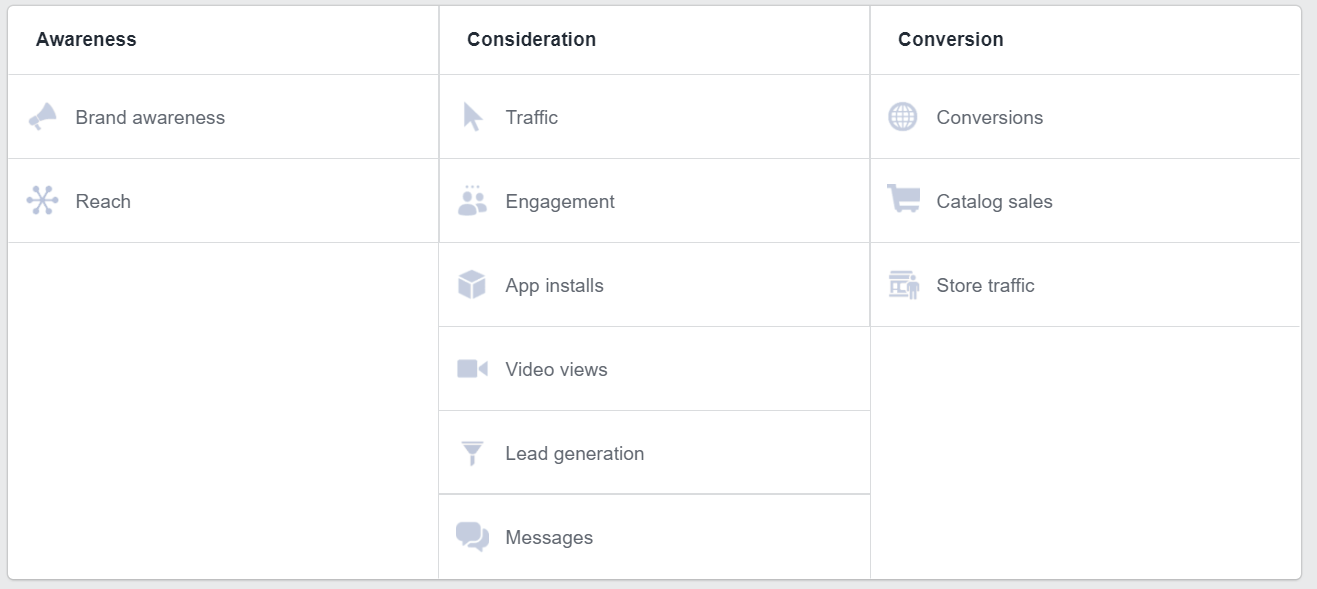 If you have multiple objectives, take time to understand what each objective will optimize to within the platform and determine which of those key performance indices (KPIs) are most important to you. For example, when you have a video asset, you might consider a Reach campaign or a Video Views campaign. Reach campaigns provide the opportunity for more people to view your video, but the platform will prioritize achieving unique impressions over video completion rate. The reverse is true if you select a Video Views campaign: Facebook will optimize to those most likely to watch the video, even if the total reach is significantly lower.
Lastly, whichever objective you chose, stay focused on the related reporting metrics that the campaign is optimizing to. Most marketers spend far too much time focusing on vanity metrics in social media advertising, which include:
Followers and page likes
Pageviews
Post likes, comments and shares
If you are running a Video Views campaign, for example, your primary measurement tools should be video completion rate, cost per completed view, total # of completed views and other related metrics like views by quartile; CTR and post comments are irrelevant.
3. Utilize the Lookalike Audiences Feature
While we discussed the value of site retargeting through the Facebook Pixel, the tracking pixel is also an important tool in reaching new audiences for prospecting. Prospecting methods would traditionally include targeting based on interests and demographics. However, in 2015 Facebook released a new marketing feature known as "Lookalike Audiences," which has proved very effective.
Facebook takes a seed audience and "looks for" users with similar characteristics and interests. This seed audience is often your website converters or people who already follow/engage with your brand, which makes it a valuable targeting tool that typically yields higher performance than other prospecting tactics.
Plus, the pixel will dynamically update your lookalike audience based on your seed audience every three to seven days — so your campaigns are always reusable. If your seed audience changes drastically, your lookalike audience won't be far behind.
4. Leverage the Built In Optimization Tools
While you may think you have a winning piece of creative, or are targeting the right audience, your instinct could cost you if you are wrong. Take advantage of Facebook's Split Test feature to A/B test:
Creative assets (i.e. different images, offers or CTAs)
Audience segments (i.e. lookalike vs retargeting vs interest-based)
Ad Placement (i.e. FB newsfeed, FB stories, IG stories, Audience Network, etc.)
Delivery Optimizations (i.e. Conversions or Link Clicks or Landing Page Views)
Another great tool within Facebook is the Campaign Budget Optimization (CBO). This achieves the most efficient use of your budget spending to attain the overall best results, and it ensures that the cost of those results align with your bid strategy.
CBO uses your campaign budget and your bid strategy — for example, lowest cost per action (CPA) or highest return on ad spend (ROAS) — to automatically seek the greatest opportunities for results across your ad sets. The campaign budget continuously optimizes for best results.
Also, when possible, MBI recommends utilizing Automatic Placements to opt ads into the most cost-efficient placements across the Facebook & Instagram supply: FB Newsfeed, IG Newsfeed, FB & IG Stories, FB Watch, etc
5. Use the Right Ad Format at the Right Time
There are many ad formats available to you as a Facebook marketer, and each can be used to generate campaign success. Choosing your correct ad format is like choosing the right golf club: picking incorrectly may work sometimes, but your game will always be more impressive if your selection aligns with your goals.
Below are the various types of Facebook ad formats and what they're best used for.
Photo Ads:
Photo ads are the bread and butter of Facebook advertising: they're clean, simple and nonintrusive. They get your point across quickly without demanding too much of your audience.
Video Ads:
Good advertising is basically just storytelling, and video ads help you utilize sight and sound to best tell your story. You can use short feed-based ads or full-length videos, depending on your needs.
Stories Ads:
While only 10% of users have actively adopted the feature so far, Facebook's "Stories" function is growing 15x faster than its news feed section. You can take advantage of this surge with Stories ads: immersive, full-screen content that helps guarantee your audience's full attention.
A Facebook survey found that 52% of people wanted stories that are quick and easy to understand, 50% wanted to be introduced to new products and 46% wanted stories from Brands to contain advice and tips.
Messenger Ads:
These ads solely appear within the Facebook messenger app, which has 1.3 billion monthly users. These ads help your brand become more personal with current and potential customers, and they provide interactive options such as a button to ask a question or see similar items.
Carousel Ads:
You can select up to 10 videos or images (each with its own unique link) in a single ad to display a variety of products, services or a certain collection within your line. There are a number of creative ways you can use this format:
To display multiple products in a single ad, each with a link to its own landing page
To showcase multiple features of a single product by using each photo or video to highlight that feature
To encourage customers to engage by telling a story across each card. Customers swipe to move to the next card, making them actively engage in the story process the same way a reader actively engages in a novel's narrative by turning the pages of a book.
To create a how-to instruction manual by using each image card as a step in the instructions
Slideshow Ads:
These are similar to videos, except they use static images instead of moving pictures. The advantage of slideshows is that they load faster than videos — an ideal way to reach users of all connection speeds.
Collection Ads:

Collections are a fast-loading portfolio of your products in a full-screen page tailored for mobile devices, allowing users to quickly browse your offerings without any slowdown. This is most useful to create a digitized version of a print catalog.
Playable Ads:
These ads are specifically for app developers and include an interactive, try-before-you-buy preview before consumers download your app.
Optimize Your Social Media Ad Strategy With MBI
Being successful with paid social media is a full-time project that requires experience and time to appropriately set up campaigns, monitor and optimize regularly. Remove all the guesswork and time-investment from your paid social strategy with the help of an MBI media strategist.