Uneasy about how political advertising will impact your 2020 media plans? Preemptions? Unachieved reach & frequency goals? The trickle-down effect of costs?
Political advertising spend is projected to hit a record in 2020. BIA Advisory Services, LLC projects local ad spend to hit nearly $7 billion, and Group M estimates that number could exceed $10 billion. The media implications of these unprecedented spending estimates will require advertisers and their agencies to be strategic, flexible and patient.
2020 is bound to be a busy year with a mass infusion of political ad dollars disrupting the media community, as well as substantial "political noise" competing for consumers' attention. These outside factors can burden your budget and performance if you don't have the right plan or partner in place to help you navigate the 2020 media landscape.
The "Rules of Engagement"
Before you can effectively plan your media campaigns, it is crucial to understand how political ad dollars are regulated and protected. Candidates for Federal offices are covered by political protection windows, which are in effect 45 days preceding each primary date and 60 days preceding the general election. During this time, the FCC mandates that all candidates for federal office positions (e.g. President, VP, House, and Senate) have "reasonable access" and "equal opportunity" to commercial broadcast stations for advertising at the lowest unit rate in the class of time they are buying.
Reasonable access ensures the candidate's access to airtime but does not include the right to demand air-time in certain programming or dayparts. It is up to each individual broadcast station to determine which dayparts they will allow for political advertising; however, where they allow one candidate to advertise, they must allow other candidates in that race the equal opportunity to the same amount of inventory, at similar times and at the same cost.
The reasonable access rule does not apply to PAC ads, issues advertisers, nor those running for state and local offices such as mayor, county council, etc.
The Impact
Given the nature of historical party affiliation in various states, the majority of political ad dollars are strategically spent at the regional and local levels. Local broadcast TV will continue to have the largest share with 46% of local political ad budgets, followed by digital media at 21%. The use of digital media in politics has skyrocketed since the last Presidential election as it can be hyper-targeted' candidates can target voters based on party affiliation, issue alignment, ethnicity, as well as adaptive messaging based on precise geo-location data. Another 14% of the share will be spent with pay-TV providers including cable, satellite and streaming services.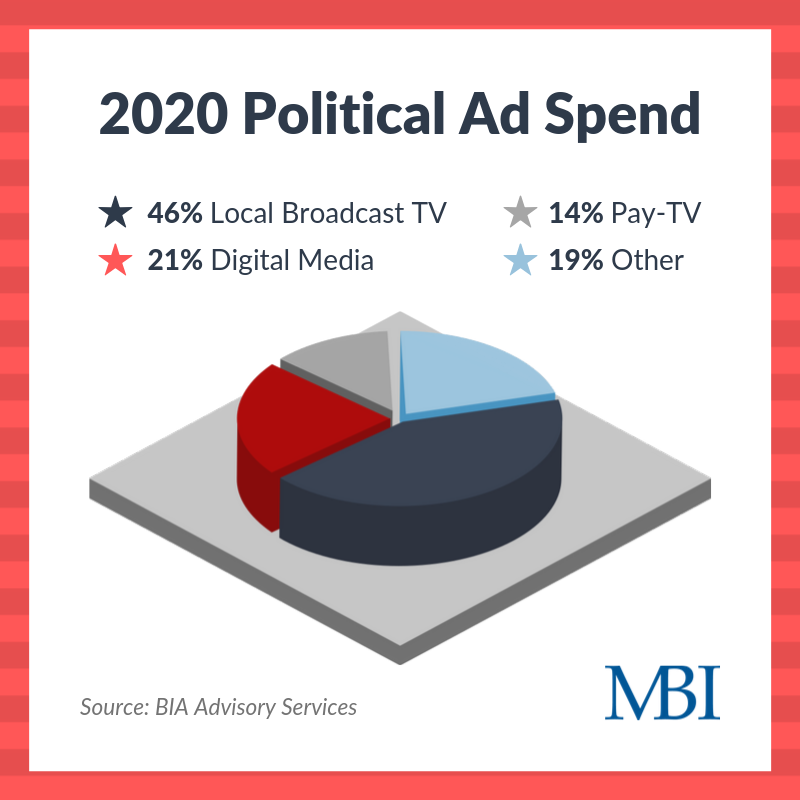 Depending on the intensity of political competition in your markets of interest, this influx of ad dollars could extract 15-20% of total local broadcast inventory, scaling up to 45% of news inventory in battleground states during the weeks prior to election dates. This rush of ad dollars will have a trickle-down effect on inventory and costs across all mediums. Local advertisers will seek to "make-up" their lost impression opportunities in other local mediums. In other words, more money will shift to cable and satellite, OTT, radio, digital, outdoor and newspapers; this high demand combined with a finite supply will drive cost increases across the board.
Preparing Your 2020 Strategy
As you plan local media campaigns, it's important to be aware of the political protection windows in each state and keep a pulse on the projected intensity of the race. These factors will closely correlate with inventory compression and impact on cost. Regardless of the market, political protection windows will be undeniably challenging for local media buying and will require advertisers and their agencies to be strategic, flexible and patient.
For references on key election dates by state and expected toss-up states to keep an eye on, see the calendar below.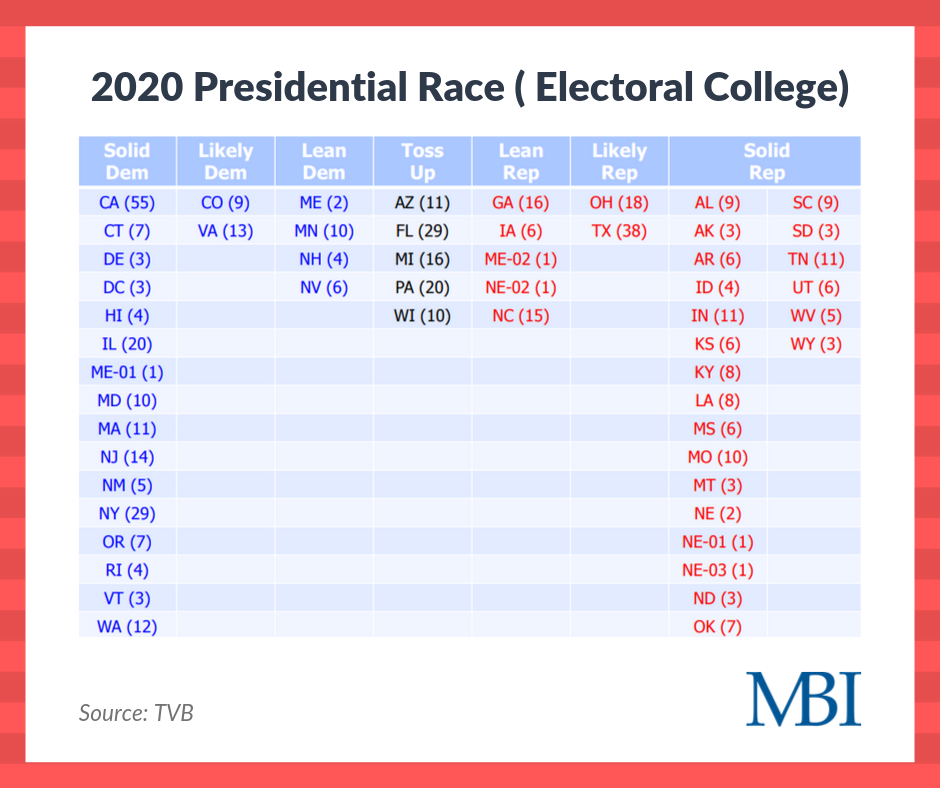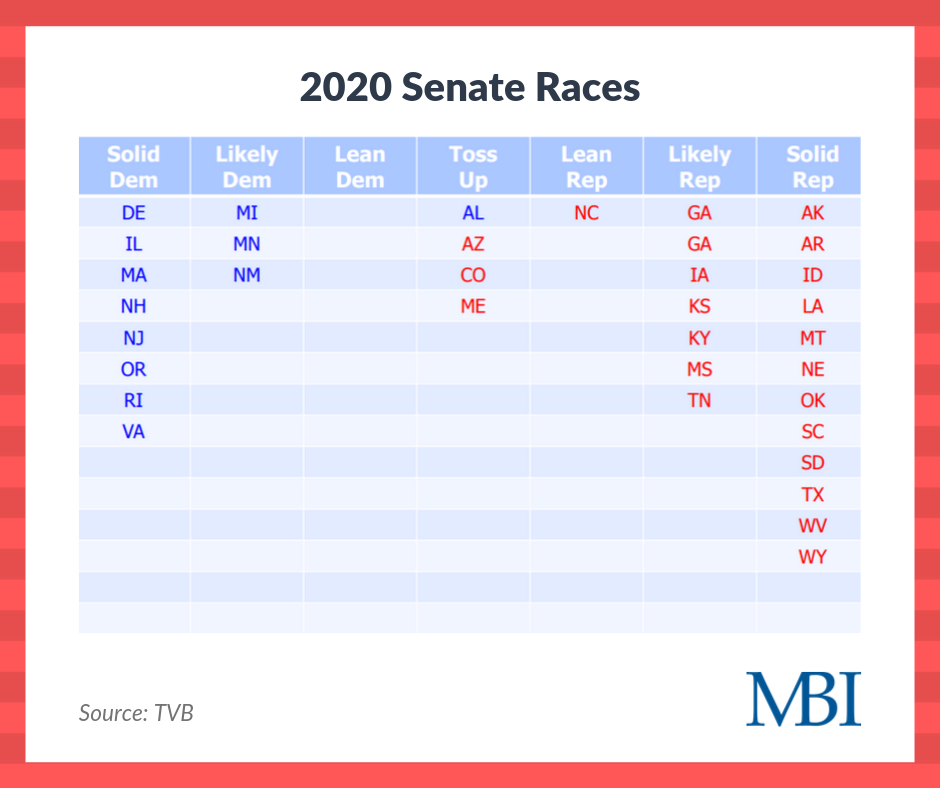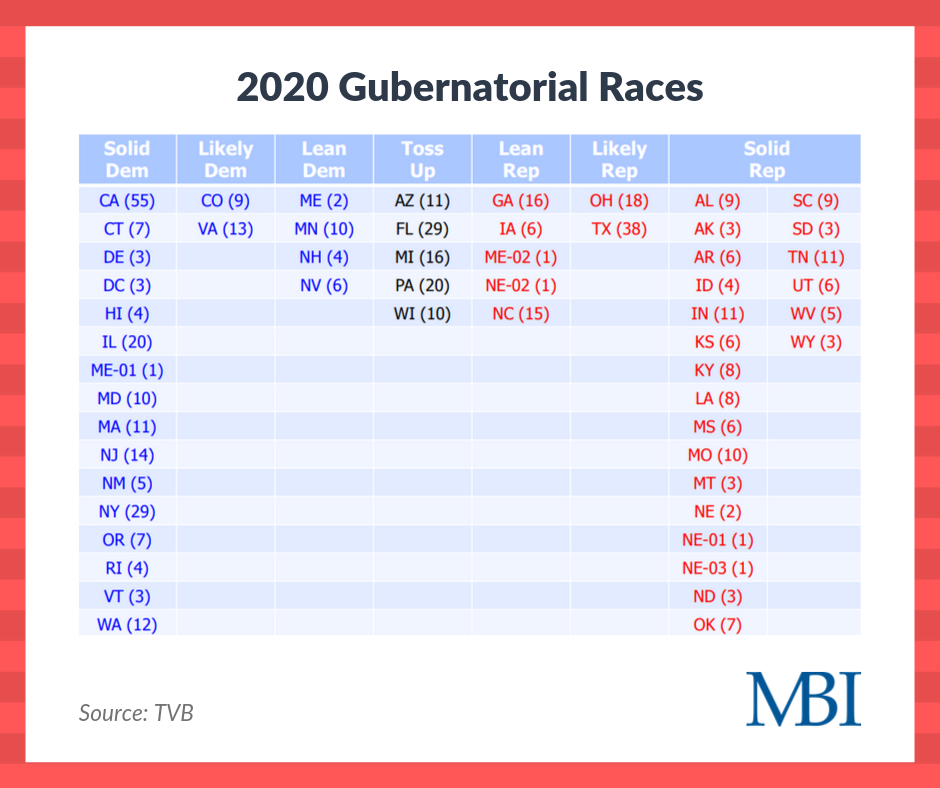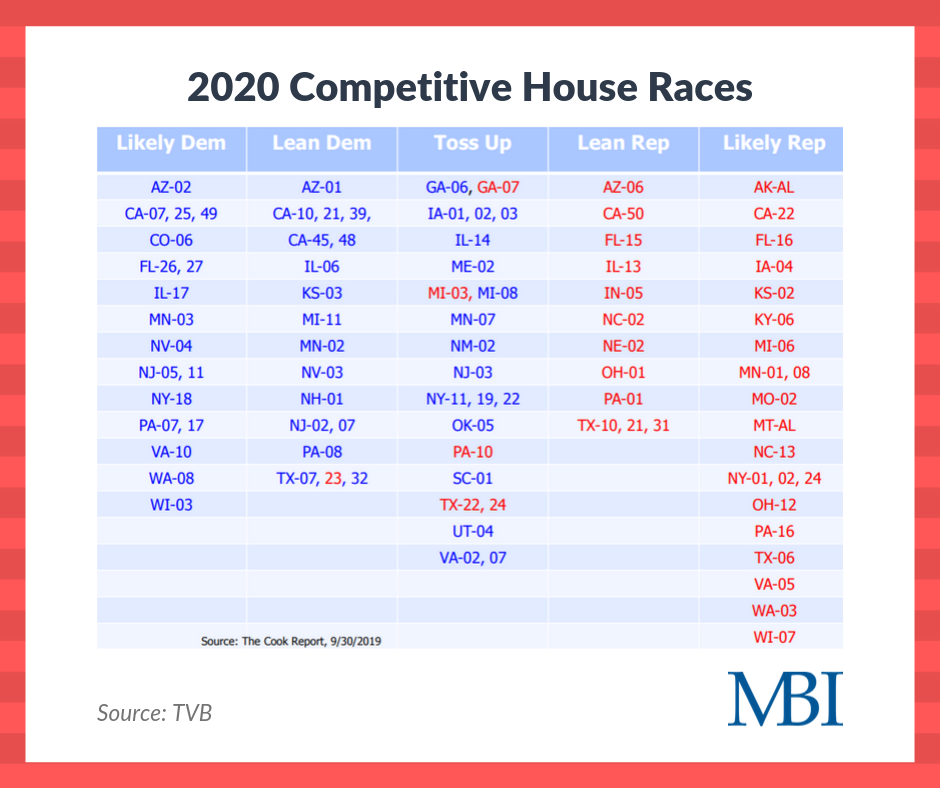 Some questions to consider:
Can you afford to avoid advertising during the political protection window dates?
What effect would these cost premiums have on my ROAS?
Are there changes to media mix allocation that can offset the impact of the political window?
For national brands, are there efficiencies of scale in buying nationally vs regionally during this time?
MBI's media strategists are here to help you navigate this complex landscape in 2020 and share several "political-proof" tactics to mitigate the impact of political ad spending on YOUR campaigns. With MBI's team of media strategists on your side, we will develop plans that incorporate non-preemptable elements, closely monitor any preemptions or market volatility, be prepared to re-allocate on the fly, maintain clear communication with your team and responsibly steward your ad budget from planning to execution.
Connect with an MBI Media Strategist today.
Sources:
https://www.broadcastingcable.com/news/bia-sees-local-political-advertising-topping-6-5b
https://www.forbes.com/sites/bradadgate/2019/09/03/the-2020-elections-will-set-another-ad-spending-record/#2b92a95f1836
https://www.commlawblog.com/2018/02/articles/deadlines/political-broadcasting-rules-qa/
http://www.mediaaudit.com/media-watchdog/political-advertising-rules-in-local-tv-buying-6-common-misconceptions/