In the past few years, the terms OTT, advanced TV, CTV, VOD and addressable TV have all emerged as the most buzz-worthy words in the advertising industry since "programmatic."
How are these terms related? How are they different? What's true and what's pure myth?
First, let's define the terms:
Linear TV— the traditional means of watching TV via cable, broadcast or satellite, where you watch your desired program at the scheduled time (aka live)
Video on Demand (VOD) — typically used when previously-aired linear content is aired at a later date (e.g. you catch last night's This Is Us episode tonight via your DVR or cable's on-demand service like XfinityOnDemand or DirecTV Now)
Over-the-top (OTT) — used for delivery of TV and film content via the internet without requiring a user to subscribe to cable or satellite pay-TV services; OTT leverages apps to stream the video content via Apple TV, Roku, Amazon FireTV, etc.
Connected TV (CTV) — content viewed via an internet-enabled "smart TV" that is not delivered by a cable or satellite connection
Addressable TV — to purchase audiences on a 1:1 HH level based on various hyper-targeted audience criteria via software in the DVR/set-top box
TV Everywhere — an online distribution channel in which TV broadcasters, particularly cable networks, allow customers to access live or on-demand video content from their networks via internet-based apps (e.g. HBO GO, Watch ESPN etc.)
Advanced TV — an umbrella term that encompasses OTT, CTV and addressable TV; it's essentially any TV/video content that can be accessed via the internet and includes additional targeting capabilities that were previously limited to digital pure-play
In other words, advanced TV is a more flexible way of consuming video content that consumers want, when they want and wherever they want. Yes, "appointment TV" on linear TV still exists for many of the top-rated programs and live sports. However, consumers are putting less importance on "live" content in favor of greater flexibility and accessibility.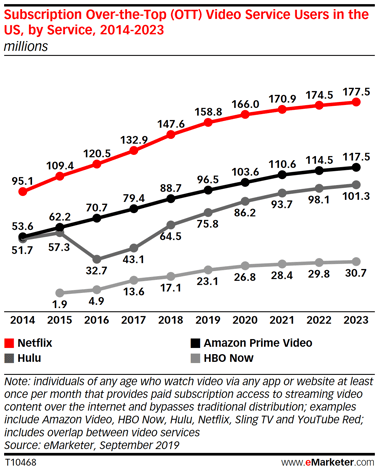 The State of OTT Advertising: Facts, Figures and Myths
While marketers recognize this shift in media consumption, it's important to consider a few things before shifting your entire TV/video strategy. According to a study conducted by eMarketer, there are about 158 million people subscribed to OTT video services in the United States alone.
Two common myths among marketers are:
The majority of OTT streaming subscribers are cord-cutters
Going "all-in" with OTT advertising gives you access to each of those 158 million users.
Myth #1: The Majority of Streaming Service Users are Cord-Cutters
While the rapid growth of digital-based advanced TV is widely acknowledged, it's important to recognize that 63.9% of U.S. households subscribe to streaming video services as reported by eMarketer. Many of those HHs maintain their linear TV services like cable, broadcast and/or satellite in addition to OTT services.
According to eMarketer, only 17.9% of U.S. HHs are true "cord-cutters", meaning those consumers simply can't be reached via traditional linear TV.
Myth #2: Access All Streaming Service Users by Shifting Budget Allocation
According to a study conducted by Adweek, the top five OTT services in the United States by the number of subscribers are:

Netflix
Amazon Prime
Hulu
HBO Now
Starz

Notice that only one of those services, Hulu is ad-supported and even Hulu offers an ad-free subscription that a growing number of consumers are opting in to.
The Video Advertising Bureau reports that about 49% of people actively engage with one of these video subscription services, or a branded network TV app, at least once a week.
All of this is to say, while advertising undoubtedly has strategic value as a component of many media plans, it's not a "silver bullet" some marketers hope it to be. The era of placing a few strategic ads in top-rated network television shows, or any individual platform yielding significant gains for your brand, is over. Media habits of the average consumers are too fragmented. To make the best use of your advertising budgets, each media element needs to be thoughtfully considered and weighed against cost, targetability, relevancy, scale, value of content environment, etc.
Advanced TV tactics allow marketers to blend the targetability of digital with premium content once only available with traditional linear TV. Success in this space is not about reaching the largest audience. Instead, it's about getting easier access to the RIGHT audience whenever and wherever they view their premium video content. Agencies and marketers alike need to carefully consider how to best leverage advanced TV, given that each brand's individual KPIs, budgets and target audiences, versus arbitrarily carving out 15% of the TV budget to the medium.
Samba TV has found that, of their measured household devices that have both linear and streaming services, a whopping 45% are considered "light linear viewers" viewing only 1 hour a week, 35% are "average linear viewers" with 9 hours per week and 25% of the households were "heavy linear viewers" viewing up to 30 hours a week of linear TV.
That said, an advertiser using exclusively linear TV will likely have high frequency and low reach against the heavy linear viewers. Depending on weight levels, linear TV could also have little to no frequency to the 45% of light linear viewing households and zero frequency to the 17.9% cord-cutters.
To discuss how your brand can best leverage the exciting yet convoluted ecosystem of Advanced TV, connect with an MBI Media Strategist today!