Everyone knows that consumers in the United States spend an enormous amount of money during the holidays. Despite all odds, that number keeps going up. According to an eMarketer study, retail spending was up 5.4% in 2018 to $999.3 billion in 2019. Brick-and-mortar retail sales were up 3.9% at roughly $874.42 billion. Cyber Monday was the heaviest online spending day in history with an estimated $7.78 billion sold. The list goes on and on.
That's the good news.
The better news is that holiday spending is expected to increase by 3.7% to an impressive $1.035 trillion in 2019. As a marketer, every dollar you spend counts. It's not only about reaching as many people as possible, it's about getting your message in front of the right people at the right moment.
If you want to maximize your marketing during the remainder of this holiday season, there are several key components to keep in mind.
Start Early for Big Opportunities
One of the challenges when advertising this time of year has always been the limited number of days advertisers have to engage and convert holiday shoppers. To combat this, one of the best strategies is to manufacture demand earlier in the season with pre-holiday marketing. According to Kantar, the "winter holiday" for ad spending is defined as the period beginning three weeks prior to Thanksgiving through the end of the year. For many marketers, holiday ad spending begins the first week in November and tends to peak around Thanksgiving.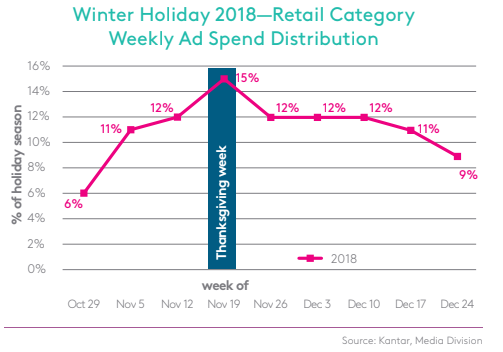 With six fewer "prime shopping days" in between Thanksgiving and Christmas in 2019 compared to last year, marketers need to be front-loading their marketing activities to leverage the spending craze. In a 2019 eMarketer study of consumers, people said that the shortened holiday time period meant that they would:
● Start searching for deals earlier than last year
● Begin researching products earlier
● Make their first holiday purchase sooner
● Pay particularly close attention to retailers that offer expedited shipping and similar solutions
Salesforce revealed that the Tuesday and Wednesday before Thanksgiving are key to achieving larger sales gains each year. Much of this has to do with the fact that consumers don't want to wait until the flurry of activity between Black Friday and Cyber Monday, and recognize that there are great deals to be had outside of those heavily marketing-fueled shopping days. Many consumers are eager to start shopping earlier, and if you are effectively marketing to them before this peak week, you can expect higher engagement and conversions as a whole. It's important to keep in mind, however, that the typical consumer treats bargain-hunting as a competitive sport this time of year. Kantar reports that:
● 47% of shoppers will only buy items on sale this holiday
● Shoppers also report that discounts/promo codes is the top influencing factor in their holiday purchases
● 67% of shoppers say they plan to buy more from online marketplaces like Amazon during holiday 2019
It All Comes Back to the Experience
Now that we've covered the importance of front loading your marketing activities, let's ensure we don't lose the sale due to poor or slow experiences with your brand. Even if you have the world's greatest product or service, you will have poor ROI if you don't pay close attention to these 3 critical consumer experience needs. Ensure that your brand:
Creates checkout experiences that are streamlined and user-friendly

For ecommerce, consider checkout with Paypal, Amazon pay options, autofill forms and flexible sign-in options etc
For brick and mortar locations, make sure you are well stocked and well staffed to allow for a pleasant shopping experience

Drives engagement and higher conversion rates with personalized product recommendations based on the consumer's search or purchase history
Leverages every opportunity to increase the size (and value) of the consumer's shopping cart (e.g. offer expedited shipping if they spend $x, free Gift with Purchase for upgraded selections etc)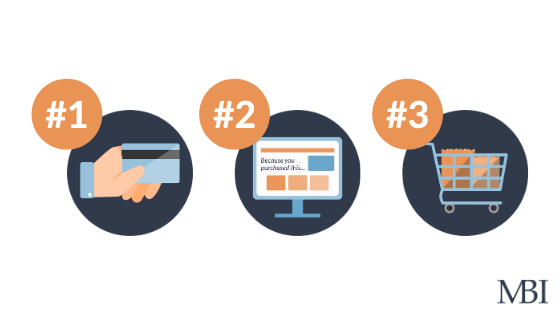 Another great way to dramatically improve your return on investment involves expanding the customer purchase journey by providing additional options on HOW they spend their money with you.
For e-commerce brands in particular, consumers used to only have one direction for purchases: they visited your website, added a product to their cart and checked out. Today, brands are not only experimenting with ways to facilitate purchases in places like social media but also on messaging platforms, voice assistants and other advanced technologies. These unique opportunities create a personalized experience for the customer and enable a smoother shopping experience.
Social listening is another effective way to monitor your brand perception online and directly engage with your audience to streamline the customer experience. This provides a way to immediately follow up on questions, compliments and/or concerns, regarding their purchase decisions.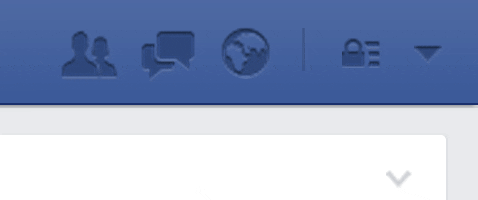 In the End
During the 2019 holiday season, the average amount spent is predicted to be $637 per person and competition for share of those holiday dollars will be fiercer than ever in the years ahead. The takeaway for marketers is to create demand early, ensure consumers feel that they are getting great value, be readily available for purchase online or in-store pickup, and make transacting with your brand quick and intuitive.
Wishing you Happy Holidays and a strong sales conversion this season!