MBI is well-renowned as a top media strategy and buying firm. As a small independent business ourselves for the last 30 years, our clients have found us to be the best of both worlds; MBI utilizes the media resources and tools of a large agency with the attention and care of a boutique firm, to maximize every budget. We appreciate small businesses and know the importance of making the most out of every working media dollar!
We want to take the time to call special attention to the small businesses of the greater Atlanta area, our home since our inception in 1991. In Atlanta, small businesses employ 1.6 million people — 43.2% of the entire city's workforce. In 2018, small businesses were responsible for the creation of over 73,000 new jobs. Atlanta and the surrounding state of Georgia has over 370,000 minority-owned companies. It also consistently ranks as one of America's best places to start a business and tops lists of the lowest cost of doing business.
We're incredibly proud of the small to medium businesses we partner with day in and day out. Although we recognize that many are hurting as a result of the COVID-19 pandemic and ensuing economic fallout, we are committed to supporting and serving businesses across the country however best we can.
One way to support small businesses is to give them a rating or review on their preferred platform. Love a product made by a local business? Review them on Epinions! Love a local restaurant? Shoot them some love on Yelp! Love your B2B service provider, like MBI? Review them on The Manifest!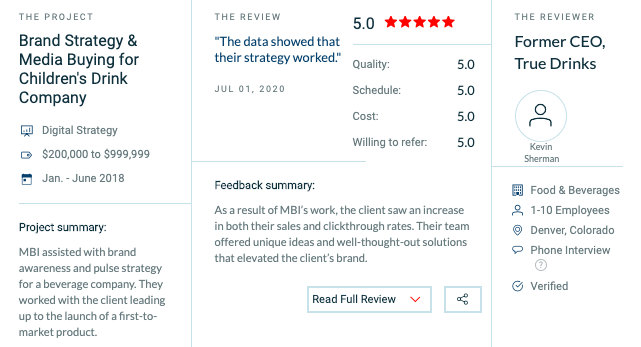 The Manifest highlights the top businesses across industries. They are an Inc 5000 company based in the heart of America's capital city, only steps away from the White House. The diligent team at The Manifest conducts reviews on B2B service providers like business consultants, independently verifies them and then curates them so buyers know that they're receiving the best possible services!
MBI is thrilled to maintain a perfect 5.0-star rating on The Manifest. In a recent 5.0-star review, the former CEO of True Drinks, Kevin Sherman, praised the brand strategy and media buying that we did for his former children's drink company.
"The data showed that their strategy worked. They really understood our industry and worked well within our budget. They were an asset in strategic planning and creative. The team jumped in with our in-house team and worked well with us."
– Kevin Sherman, former CEO of TrueDrinks
We're incredibly grateful to small businesses and all of our satisfied customers. If you're looking to join their ranks, please contact our media team today!