Digital audio is having a moment.
According to eMarketer, podcasting is the fastest-growing digital platform, and the average U.S. adult will spend more time listening to digital audio than radio this year.
2020 is already a standout year for podcasts, both on the listening side and the production side. This year's Infinite Dial study found that 75% of the U.S. population became aware of podcasting, more than 55% of Americans listened to a podcast and over 37% of those surveyed claimed they listened to a podcast in the last month.
Podcast creation also continues to grow with more than 700,000 podcasts and 28 million podcast episodes produced in 2019. One trend in podcast creation that benefits listenership is the rise in celebrity podcasts.
The reason for the celebrity interest? Talent agents tout podcasting as an integral part of a successful publicity strategy and a tactic for celebrities to connect on a deeper level with their fans compared to social media. However, their podcast and social media strategies must be integrated. 60% of podcast listeners discover shows via social media thanks to celebrities and influencers.
Why Podcasts?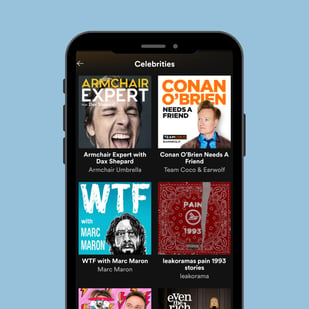 This competitive medium affords high engagement from extremely loyal listeners. These listeners are keen on establishing a connection with their favorite podcast hosts, and they return regularly to check in with them. This loyalty also translates to other marketing channels like social media. With podcast advertising, your brand is more likely to leave a lasting impression on potential customers.
Listening to a podcast is also generally convenient for consumers. U.S. podcast audiences listen to an average of six podcasts per week, and the "power" podcast listeners — those who spend five or more hours a week listening to podcasts — state they follow their favorite hosts on social media.
Tips for Effective Podcast Advertising
There are two major ways to deliver ads within podcast media: live-read integrated ads and dynamic insertion. They are defined as follows:
Integrated Live-Read Ads — The podcast host or other familiar voice (producer, frequent guest, etc.) reads the content. It may include a jingle or a static ad. Because live-read ads are integrated into the podcast download itself, targeting is limited and all consumers receive the same integrated advertising.
Dynamically Inserted Ads — Targeted ads are not inserted into the podcast file until the listener requests a download or begins streaming. The ad server dynamically supplies each listener with targeted ads. Podcasts on internet platforms may play these ads at designated ad breaks. In a podcast consumed online, ads may be inserted into a file that is being progressively downloaded at designated ad breaks. Some publishers may count this dynamic ad as an "impression" without confirming ad delivery. Server logs can confirm that the entire ad file was downloaded.
Podcasts are increasing in popularity, so MBI's media strategists recommend taking advantage of its rapid growth by:
Scheduling your live-read ads for the mid-roll slot. Listeners are actively engaged halfway through an episode, where 60- to 90-second slots are available, compared to pre- and post-roll slots. This opportunity reduces the risk of listeners fast-forwarding past your ad.
In live-read buys, it's important identifying podcast genres that fit your brand, products and services. Additionally, look for podcast hosts who resonate with your target audience. According to IAB and PwC, organic host-read ads are the preferred ad format vs. scripted ads. When podcast hosts deliver your ad, listeners hear your message from a voice they trust.
Implementing a frequency over reach strategy. It's generally more effective to purchase three to five ads on an up-and-coming podcast rather than one ad on an established podcast.
Measuring and optimizing your campaign. Metric measurements include:

Promo codes — A specific word or phrase entered into a website's checkout screen to track if a podcast generated a sale.
Vanity URLs — A specific website link or extension that allows advertisers to count how many visitors a podcast produced.
Checkout surveys — A question posed during a payment process to determine when podcasts sponsorships create sales.
Podcast advertising grows daily, and revenue is forecasted to exceed $1 billion by 2021. Connect with an MBI media strategist to magnify your digital media budgets with a smart podcast strategy.