Americans continue to fall in love with the sound of music and the human voice — and advertisers are listening.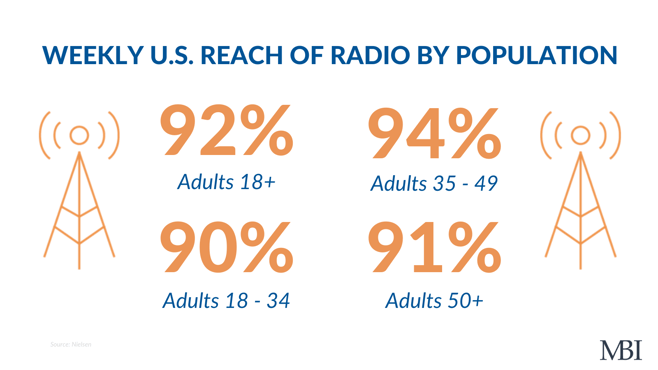 Radio reaches more Americans each week than any other platform, at a whopping 92% of the A18+ population. When it comes to stretching across age, gender and ethnicity, advertisers can count on radio to connect with more consumers than TV, mobile or digital.
Nielsen reports 272 million Americans ages six and above listen to radio each week. Dividing this huge number by age and demographics, month after month, radio reaches:
93% of Teens 12-17
99% of Adults 18-34 and 25-54
95% of Persons 18 and older
98% of Adults 18-49
97% of Women 18-49 and 98% of Women 25-54
98% of Men 18-49 and 99% of Men 25-54
99% of Hispanics 12 and older
99% of Blacks 12 and older
One advantage radio content has over other media is the fact that radio comes standard in most vehicles. Not only is it available to anyone who commutes to work or runs weekend errands in a car, but it is also free to listen to.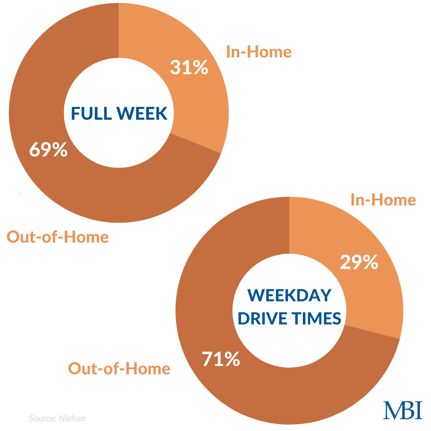 Research shows the most away-from-home listening occurs in a vehicle, making terrestrial/traditional radio advertising a fantastic medium to reach consumers when they're on the go, headed to retail stores and ready to make purchasing decisions.
Audio-based content is one of this decade's booming media trends, capturing the imaginations of consumers across all devices and wherever they go. It is audio that drives the podcast, the streaming services and the smart speaker — not to mention, audio being the critical element that enhances video messages.
Convinced that radio is right for you? Or are you already running local radio and wondering if it's time to take the leap to national radio? Here's some information on the different types of national network radio and when it may be appropriate to run national vs. local radio.
What Is Network Radio?
Network radio organizations provide audio content, syndicated programs, production services and commercials to local radio stations throughout the U.S.
From 24-hour music channels, sports and political analysis talk stations to farm reports and shows hosted by celebrity radio personalities, network radio companies maintain an ongoing affiliate relationship with each station. These affiliates air network-provided audio content from week to week. Affiliate stations give detailed reports to the network radio organization that include exact times for program and commercial airings.
Types of National Network Radio Buys
Advertisers can choose between two types of network radio buys: Network and Syndication.
Network Buys
Advertisers buy time in all national markets based on demographics. These buys offer great coverage, lower frequency and high efficiency due to low rates, usually set under $5 CPM (cost per thousand impressions).
Syndication Buys
Advertisers buy time in specific radio shows like "The Rush Limbaugh Show," "The Howard Stern Show" and others; these programs are purchased on consumer demographics, interests and content-relevancy. For reach and targeted frequency, combine a syndication buy with a national buy.
Network Radio Audience Profile
Network radio delivers a listening audience composed of working adults who are educated and affluent, similar to total radio:
94% of radio listeners tune to a network-affiliated station every week
Among adult listeners (persons 18 and older), gender is split almost evenly: 51% women and 49% men, making it a viable medium for nearly every advertiser
4 in 10 adults listen to network radio at home, while 6 in 10 listen away from home
74% of network radio listening adults work full time; 67% have earned at least a bachelor's degree and 70% have household incomes of $75,000 or more
Benefits of Network Radio
Network radio not only provides you with total U.S. coverage and national reach, but it also offers consistent programming that appeals to a wide spectrum of listeners of various interests and life stages. As an advertiser, network radio offers several media advantages:
Cost-efficiency: Depending on the MSA size that you are buying locally, MBI's media team can often reach break-even costs by converting an 8-15 market local buy to a national buy. Additionally, our media strategists can often achieve a significantly lower CPM nationally.
Scale: If you are looking to drive general brand awareness, have distribution in 8-15 of the top DMAs and/or have an e-commerce business component, the scale and efficiency of national radio can far outweigh that of local radio buys.
Flexible scheduling: Advertising can be scheduled as day, and/or daypart, specific campaigns.
Targeted, customizable brand messaging: Copy splitting, or customizing brand messages for specific regions, markets and demographics — including tags for store regions — is achievable with national radio and gives your ad a local feel for greater effectiveness.
Nationally recognized talent: The talent on syndicated programs can either endorse your product/service, or MBI can negotiate for talent to simply record your radio ad, often adding an implied endorsement and validation.
Experiential opportunities: These include custom 360 integrations for brands incorporating digital, social, mobile and more.
Increased reach: As a standalone, network radio has incredible reach across various demographic segments. When combined with TV, network radio can increase the campaign reach by at least 20%.
Key Tips & Takeaways
National network radio is a cost-efficient way to accomplish large reach across many demographic segments of various interests and life stages.
If you are currently investing in 8-15 major radio markets, it may be time to consider national network radio.
Tap into syndicated programming talent with endorsements to influence their loyal listeners into considering your product or service.
A network radio campaign will ultimately depend on your KPI's to determine weekly spend, format options, personality selection and length of campaign. Connect with an MBI media strategist to align your advertising goals with this effective, high-reach medium.