After a year of Covid shutdown and a corresponding hit to the advertising industry, fast forward a year and many traditional ways of advertising have transformed into more digital- based platforms— where consumers are spending more of their time. Brands have increased spending across CTV/OTT, social media, podcasts, digital media and paid search platforms. Advertising is changing, and digital media is truly ubiquitous.
While there have been many unknowns during the past year, there's one thing for certain this is the year of digital acceleration.

Feeling A(Live)
The concept of "going live" or "live-streaming" is an innovative way to communicate with an audience on social media and opens the door for marketers to explore a new way of advertising. Users and brands can stream
videos in real-time, allowing their audience to feel more connected. Going live on social media turns a video from a generic broadcast to an engaging conversation for both parties.
Live streams are easily noticeable since they're pushed to the top of your social media's stream or timeline allowing your brand to be easily seen (i.e. the pink ring around a profile picture on Instagram in the Stories section signifies that the user is currently "live").
Marketers should understand that there's currently little competition in live-streaming services, so the demand for such services is high. Live-streaming can be a safe bet that requires little investment and can end up making your business more money in the short run. The real-time effect of live streams allows audiences to feel like they are there with you, creating a more personalized and real experience.
Engaging with your audience in real-time will help boost your social media presence and increase sales.
Long 'Story' Short
Invented by Snapchat but mainstreamed by Instagram, "stories" are the new effective, more authentic forms of advertising.
Most social media stories can run for up to 15 seconds, which is longer than the 8-second average watch time for an ad in your feed. However, people are watching story videos pretty much full time— as long as the ad is entertaining and engaging.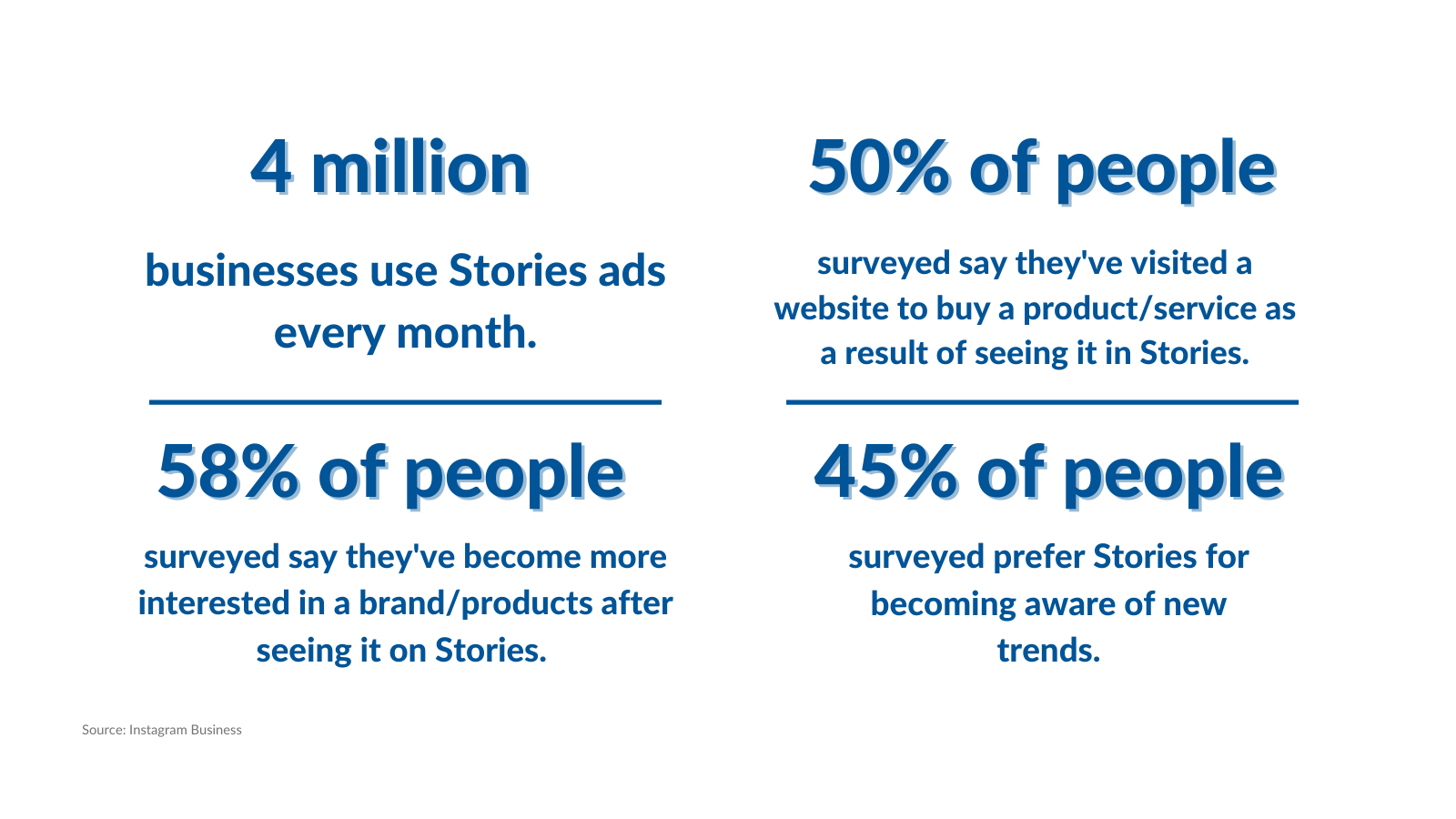 Like live-stream
i
ng,
story
ads tend to have a lower cost
and perform much better than feed ads when done
right. Of the 500 million Instagram accounts using Stories,
one-third
of the most viewed stories come from businesses' advertisements. By fully displaying on mobile screens, advertisers can leverage the
immersive, distraction-less
canvas within Stories to post pictures or videos.
The key to this tr

end growing in popularity is the simplicity it brings to the creative aspect of advertising.
You only need to grab your audience's attention for 8-15 seconds

Create easy swipe-up links to access your brand or products

Essentially, you can start with a blank canvas and create anything you want



Contact an MBI strategist to get started on your next digital campaign today!